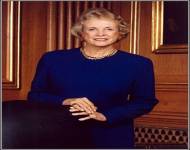 Early life
O'Connor was born on March 26, 1930 in El Paso, Texas, to Harry and Ida Mae Day. While growing up on her family's ranch in Arizona, she rode horses and worked alongside the ranch employees. Her strong work ethic lead her to earn an economics degree from Stanford University in 1950. Two years later, she graduated from Stanford Law, where she served on Board of Editors for the Stanford Law Review.
Career
O'Connor began her legal career as deputy county attorney in San Meteo, California because there were few opportunities for female attorneys in private practice. From 1954, O'Connor served as a civilian attorney for the U.S. Army in Frankfort, Germany. Three years later, O'Connor returned to Arizona and began her own private practice. However, O'Connor's time was consumed raising her three sons as a full-time mother. In 1965, O'Connor returned to the law as an assistant state attorney general in Arizona.
In 1969, O'Connor turned her attention toward politics. Arizona Governor Jack Williams appointed O'Connor to fill a state senate vacancy. Subsequently, O'Connor was re-elected in 1970 and 1972, respectively. After her victory in 1972, O'Connor became the Arizona senate majority leader. She is the first woman ever to hold this position in the country.
In 1974, O'Connor decided to pursue a career in the judiciary and became a judge on the Maricopa County Superior Court. In 1978, O'Connor declined requests to pursue the governorship; subsequently, one year later, she was appointed to the Arizona Court of Appeals.
Supreme Court
In 1981, O'Connor was nominated by President Ronald Reagan to replace Justice Stewart Potter on the United States Supreme Court. The Senate confirmed her unanimously and she was sworn in as Justice on September 25, 1981. During her time on the bench, O'Connor was seen as a conservative moderate; however, she decided each case individually rather than succumbing to political pressures. This is evidenced in Planned Parenthood v. Casey because O'Connor joined the majority in protecting women's abortion rights; therefore, upholding Roe v. Wade. Additionally, O'Connor helped decided one of the tightest presidential races in U.S. history. In Bush v. Gore, O'Connor joined the majority, as the swing vote, and overruled a court order to recount the presidential votes in Florida; therefore, deciding the election and ensuring George W. Bush the presidency. In 2006, O'Connor retired from the Supreme Court.
Key cases
Mississppi University for Women v. Hogan, 458 U.S. 718 (1982).
Finding a state nursing school's denial of male applicants to be unconstitutional because it violated the fourteenth amendment's equal protection clause.
Planned Parenthood v. Casey, 505 U.S. 833 (1994).
Protecting women's abortion rights and upholding Roe v. Wade.
Bush v. Gore, 531 U.S. 98 (2000).
Overruling the lower court's order for recount because it violated the equal protection clause as it did not set out a standard for reviewing the contested votes.
Grutter v. Bollinger, 539 U.S. 306 (2003).
Affirming a state college or university's right to use affirmative action for admissions.
Later years
After leaving the Supreme Court, O'Connor authored two memoirs and two children's books. Additionally, she lectures across the country. In 2009, O'Connor was awarded the Presidential Freedom Medal by President Barack Obama. The Arizona State University Law School was renamed after Justice O'Connor.