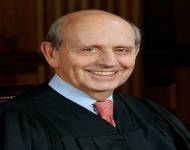 Stephen Breyer currently serves as an Associate Justice on the United States Supreme Court, a position he has held since 1994. His extensive legal experience and authorship of several law textbooks have made him an integral member of the Supreme Court.
Early Life
Breyer was born on August 15, 1938, in San Francisco, California. Breyer received Bachelor's degrees from both Stanford University and later Magdalen College at Oxford University before receiving his law degree from Harvard Law School. Following graduation, he clerked for Associate Justice Arthur Goldberg in 1964, and then became special assistant to the United States Assistant Attorney General between 1965 and 1967. In 1973, Breyer served as assistant special prosecutor on the Watergate Special Prosecution Task Force, prior to taking on the role of special counsel for the U.S. Senate Committee on the Judiciary in 1974. Between 1979 and 1980, he served as chief counsel on the committee.
Legal Career
Beginning in 1967, Breyer also taught at various law schools, including Harvard University, the College of Law in Sydney, Australia, the University of Rome, and Tulane University of Law. During this period, he authored two books and a piece of scholarship relating to copyright laws.
Breyer served on the United States Court of Appeals for the First Circuit between 1980 and 1994. During this period, he also served on several commissions and continued to author important legal documents that have influenced the practice of law today.
Supreme Court Justice
In 1994, President Bill Clinton nominated Breyer to serve as a Justice on the Supreme Court following Harry Blackmun's retirement. Breyer has been called a pragmatist and noted that he tends to look more closely at the purpose and consequences of a law's constitutionality rather than the literal text, history, and language. Known as being more liberal than his legal counterparts, he has consistently voted in favor of abortion rights and argued that the Founding Fathers intended to establish a democracy that extended the maximum rights and liberties for its citizens.
Breyer's rulings also demonstrate that he more frequently defers to Congress and the executive branch at a higher rate than the other Justices on the bench. The same holds true when it comes cases involving the First Amendment and law enforcement, during which times Breyer typically favors the arguments of law enforcement.
When Breyer is not in court, he spends a great deal of his time writing and authoring legal books, the latest of which was released in 2010.