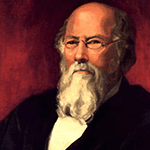 Stephen Johnson Field (1863-1897)
Stephen J. Field lived from 1816 to 1899 and is known for having the second longest tenure of any justice.
Early Life
Field was born in Haddam, Conn. and was the sixth of nine children. After spending much of his childhood in Stockbridge, Mass., Field attended Williams College in Williamstown where he helped found the Delta Upsilon Fraternity. After graduating from Williams in 1837, Field moved to New York where he began to read law with his brother, David Dudley II. In 1848, Field left New York and went west to California during the Gold Rush.
Legal Career
Field developed a successful legal practice in California. In 1850, he represented Yuba County in the California State Assembly. A few years later, he was elected to the California Supreme Court, where he remained for six years. During his time on the court, Field had a special coat made with pockets large enough to hold two pistols, so that he could shoot at his various enemies through the pockets.
In 1859, Field replaced the former chief justice of the California Supreme Court, David S. Terry, as Terry had killed a United States Senator from California in a duel and fled the state. Thirty years later, their paths would cross again. Field, serving as a judge on the Ninth Federal Circuit Court, ruled against Terry in a divorce case, ultimately sending him to jail for contempt of court. In 1889, Terry attempted to kill Field out of revenge, but was instead shot dead by Field's bodyguard, U.S. Marshal David B. Neagle. While Field was later on the Supreme Court bench, legal issues relating to the killing of Terry came before the Supreme Court in the case of In re Neagle. Perhaps unsurprisingly, the court ruled that the Attorney General of the United States had the authority to appoint United States Marshals as bodyguards to Supreme Court Justices.
Appointment to the Supreme Court
In 1863, Field was appointed by Abraham Lincoln to fill the newly created tenth seat on the Supreme Court. Fields' appointment helped achieve both regional and political balance on the bench.
Field was an advocate of substantive due process, as proven by his dissent in the Slaughterhouse Cases. One of his most notable opinions, Field's majority opinion in Pennoyer v. Neff, set the standard for personal jurisdiction. Field, however, did not have favorable views on matters of race. For example, in Strauder v. West Virginia, where the majority held that African-Americans may not be excluded from juries, Field dissented. Later, in Plessy v. Ferguson, the infamous case that upheld racial segregation, Field joined the majority opinion.
During his nearly 35-year tenure on the bench, Field wrote 544 opinions. Although his mental health was deteriorating, he refused to retire until 1897, making him the second longest serving Associate Justice.
Death
Field died in Washington, D.C., two years after retiring from the Supreme Court. He is buried in Rock Creek Cemetery.
Notable Cases
Slaughterhouse Cases (1873)
Pennoyer v. Neff (1878)
Plessy v. Ferguson (1896)