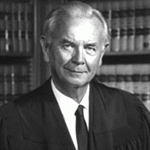 William Joseph Brennan, Jr. (1956-1990)
Lived from 1906 to 1997.
Early Life and Legal Career
William J. Brennan Jr. was born on April 25, 1906 in Newark, New Jersey. Brennan was the second of eight children to Irish immigrant parents. Brennan graduated from Wharton School of the University of Pennsylvania in 1928 with a degree in economics. Three years later, in 1931, Brennan graduated from Harvard Law School near the top of his class. Following law school, he married his high school sweetheart, Marjorie Leonard. The two eventually had three children, William, Nancy and Hugh.
Brennan began practicing labor law at a private practice firm in New Jersey that would later become Day Pitney. In 1942, Brennan joined the Army as a major, where he worked as a judge advocate general. He left the Army as a colonel in 1945. In 1949, Brennan was appointed to the state Superior Court by the Governor of New Jersey, and later, in 1951, the same governor appointed him to the New Jersey Supreme Court.
Supreme Court
Brennan was appointed to the U.S. Supreme Court in 1956 by President Dwight D. Eisenhower. Brennan was an outspoken liberal, believing strongly in individual rights. He favored criminal defendants, minorities, the poor and other underrepresented groups. Brennan was notorious for his willingness to compromise and ability to win over a majority of justices with ease.
Brennan was a chief advocate of due process as it related to bureaucracy, establishing the right to a hearing before the taking away of welfare benefits in Goldberg v. Kelly. The procedural due process case was said by Brennan to be his most important ruling on the Supreme Court. Another landmark decision spearheaded by Brennan was New York Times v. Sullivan, where the court held that the press can only be found potentially libelous if there is malicious intent behind the sharing of wrong information. Other notable issues Brennan supported included affirmative action programs, gender equality and abortion rights. During his tenure, Brennan authored more than 1,300 opinions, second most in the history of the court.
Death
Brennan retired from the Supreme Court in July of 1990 for health reasons. He died on July 24, 1997 at the age of 91 in Arlington, Virginia.