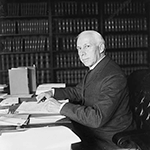 Willis Van Devanter (1911-1937)
Lived from 1859 to 1941.
Early Life
Willis Van Devanter was born in Marion, Indiana. Devanter earned an LL.B. from the Cincinnati Law School in 1881, where he was a member of the Beta Theta Pi fraternity and the Knights of Pythias. After three years of private practice in Marion, he moved to the Wyoming Territory, where he served as city attorney of Cheyenne, Wyoming and a member of the territorial legislature. From 1897 to 1903, Van Devanter served as an assistant attorney general in Washington, D.C., working in the Department of the Interior. Shortly after, in 1903, President Theodore Roosevelt nominated him to a seat on the Eighth Circuit Court of Appeals.
Appointment to the Supreme Court
Van Devanter was nominated to serve as an Associate Justice on the Supreme Court of the United States by President William Howard Taft on December 12, 1910. During his twenty-five-year tenure on the bench, Van Devanter was known for having chronic writer's block, which some characterized as "pen paralysis." He wrote fewer opinions than any of his fellow justices–averaging just three a term during his last decade on the Court.
Van Devanter made his mark in opinions on public lands, Indian questions, water rights, admiralty, jurisdiction and corporate law. He is best known, however, for his opinions defending limited government in the 1920s and 1930s.
Death
Van Devanter died on February 8, 1941 in Washington, D.C. He is buried in the capital's Rock Creek Cemetery.
Notable Cases
United States v. Sandoval (1913)
Steward Machine Co. v. Davis (1937)
West Coast Hotel Co. v. Parrish (1937)