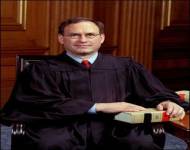 Samuel Alito currently serves as an Associate Justice on the United States Supreme Court. Alito is one of the most recent Justices added to the Supreme Court, receiving his nomination from President George W. Bush in 2006.
Early Life
Samuel Alito was born on April 1, 1950, in Trenton, New Jersey. He received his bachelor's degree from Princeton University in 1972, and was awarded his juris doctor from Yale Law School in 1975. Following his graduation from law school, Alito clerked for Judge Leonard Garth, who sat on the Third Circuit Court of Appeals in New Jersey.
Legal Career
Alito took on several high-profile federal posts before being confirmed to the Supreme Court. Between 1977 and 1981, Alito served as assistant United States Attorney for the District of New Jersey. From 1981 to 1985, he worked as an assistant to Solicitor General Rex Lee, during which period he argued 12 cases in front of the Supreme Court. Between 1985 and 1987, Alito served as deputy assistant to Attorney General Edwin Meese, which was followed by his new position as United States Attorney for the District of New Jersey between 1987 and 1990.
In 1990, Alito was appointed to the U.S. Court of Appeals for the Third Circuit by President George H.W. Bush. During this period, Alito also held a position as an adjunct professor at the Seton School of Law between 1999 and 2004, where he taught courses relating to constitutional law and civil liberties.
Nomination to the Supreme Court
Alito was nominated by George W. Bush to fill the Supreme Court vacancy left by Sandra Day O'Connor in 2005. His nomination was met with significant opposition from several members of Congress and the American Civil Liberties Union, all of whom argued that Alito was too conservative. Following a failed filibuster attempt, Alito was confirmed in 2006.
While Alito is typically identified as a conservative, his voting record on the Supreme Court has been varied. For example, Alito has voted to place some restrictions on the contentious abortion issue, but has not voiced his willingness to overturn Roe v. Wade. Alito has also ruled carefully on cases involving free speech. In the landmark Snyder v. Phelps case, Alito was the only dissenting judge and argued that protesting at funerals infringed upon the rights of those grieving.