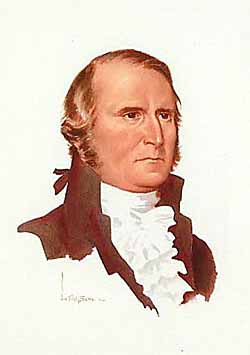 Jacob Broom represented the State of Delaware at the Constitutional Convention. He was also an accomplished businessman and politician in his home state.
Early Life
Jacob Broom was born on October 17, 1752, in Wilmington, Delaware. Broom, the son of a blacksmith, attended school at Old Academy in Wilmington, Delaware. Upon completing his studies, he worked as a farmer and surveyor before becoming a businessman. In 1773, Broom married Rachel Pierce. They went on to have eight children.
Broom, a pacifist, did not serve in the Continental Army during the Revolution. However, he did contribute to the Patriot Cause, most notably, by preparing maps for George Washington before the Battle of Brandywine.
Broom's stature in the business community gradually led to politics. In 1776, he became assistant burgess (mayor) of Wilmington at the age of 24. He went on to win reelection six times before becoming chief burgess, a position he held for four terms. He also served as a borough assessor, president of the city "street regulators," and justice of the peace for New Castle County. He was elected to the Delaware Legislature in 1784 and served until 1788.
Constitutional Convention
Broom was selected to represent Delaware at the Annapolis Convention, but he did not attend. He did answer the call to attend the Constitutional Convention and attended all of the sessions.
Broom favored a strong national government, telling George Washington to "contribute your advice and influence to promote that harmony and union of our infant governments which are so essential to the permanent establishment of our freedom, happiness and prosperity." He also believed that state legislatures should pay their representatives in Congress.
While Broom did speak out on issues that he were important to him, he was not among the Convention's frequent speechmakers. Georgia delegate William Pierce described him as "a plain good Man, with some abilities, but nothing to render him conspicuous. He is silent in public, but cheerful and conversable in private."
Later Public Service
After the Convention, Broom returned to Wilmington, where he became its first postmaster in 1790. He also served as chair on the Board of Directors for Delaware Bank in Wilmington.
Broom also continued to pursue business opportunities. He operated a cotton mill, along with a machine shop that manufactured mill machinery. He eventually sold his business to Dupont, and his property would go on to serve as its base of operations.
Broom died on April 25, 1810, while on a business trip to Philadelphia. He was 58 years old.