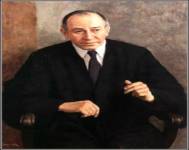 Early life
Abraham "Abe" Fortas was born on June 19, 1910 in Memphis, Tennessee to Jewish immigrants from England. He enjoyed a modest upbringing as his father was a cabinetmaker. Fortas loved music. He was a talented violin player and he formed his own jazz band in high school.
In 1926, at age sixteen, Fortas enrolled in Southwestern College (now renamed Rhodes College) in Memphis. After graduating at the top of his class, he attended Yale Law School where he became editor-in-chief of the Yale Law Journal. At Yale, Fortas found a mentor in future Supreme Court Justice, William O. Douglas, whom he shadowed in his early career.
In 1935, he married Carol Agger, with whom he had no children.
Career
Shortly after graduating in 1933, Fortas joined Douglas at Yale and became an associate professor. In 1937, Fortas became the assistant director of the newly established Securities and Exchange Commission after Douglas was appointed Chairman.
Fortas held other public sector positions. In 1939, he worked as general counsel to the Public Works Administration. In 1941, he became director of the Power Division in the Department of the Interior. One year later, he took the position of the undersecretary in the department.
In 1946, Fortas left the public sector and co-founded the firm Arnold, Fortas & Porter (now Arnold & Porter, LLC) in Washington, D.C. In 1963, Fortas successfully argued Gideon v. Wainwright in front of the United States Supreme Court, which found the accused right to counsel in a criminal trial regardless of their ability to pay.
Fortas also had his hand in politics. He provided advice to Democratic politicians, leading to his friendship with Lyndon B. Johnson. Two years after becoming president, Johnson appointed Fortas to replace Justice Arthur Goldberg on the United States Supreme Court.
Supreme Court
Fortas was active in protecting individual rights during his time on the Supreme Court. In Miranda v. Arizona, 384 U.S. 436 (1966), Fortas sided with the majority, which made it mandatory for the police to inform suspects in custody of their rights.
Additionally, in Epperson v. Anderson, 393 U.S. 97 (1938), Fortas penned the majority that struck down an anti-evolution law because it violated the Establishment clause of the First Amendment. Fortas found the state's use of power to restrict the teaching of a subject objectionable to a certain region was an unconstitutional establishment of religion. Further, in Tinker v. Des Moines Independent Community School District, 393 U.S. 503 (1969), Fortas wrote the majority opinion defining the constitutional rights of students in public schools; specifically, finding the First Amendment applied to public schools.
Fortas was also a staunch proponent of children's rights. In Kent v. United States, 383 U.S. 541 (1966), Fortas wrote the narrowly construed majority finding a child was not given a proper hearing before being transferred to adult criminal court; therefore violated his due process. A years later, Fortas furthered his position by penning the majority for In Re Gaul, 387 U.S. 1 (1967). Fortas' majority opinion extended the protections of the Fourteenth Amendment and Due Process to juvenile proceedings. Fortas noted that the state should act in a "parental" role when in custody of the children; therefore, special protections afforded to a child in criminal court are just.
In 1968, President Johnson nominated Fortas to replace retiring Chief Justice Earl Warren. However, during the Senate Confirmation hearing, Fortas struggled to find support, a filibuster ensued, and Fortas withdrew his name from consideration. Fortas is the first nominee for the Chief Justice position to fail to receive Senate approval since 1795.
Unfortunately, Fortas encountered more controversy in 1969. A magazine uncovered that Fortas received $20,000, and later returned, from an indicted financier. An alleged agreement between the parties provided Fortas $20,000 annually until death for providing legal advice. Under threat of impeachment, on May 14, 1969, Fortas resigned from the Supreme Court while maintaining his innocence.
Later years
After resigning from the Supreme Court, Fortas returned to private practice He attempted to rejoin the firm he helped create but was unsuccessful. Therefore, he started a new law firm in Washington, D.C. Fortas worked in private practice until his death on April 5, 1982 at 71 years of age.