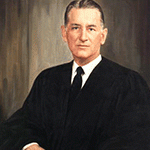 Charles Evans Whittaker (1957-1962)
Lived from 1901 to 1973.
Early Life and Legal Career
Charles E. Whittaker was born in Troy, Kansas. In ninth grade, following the passing of his mother, Whittaker dropped out of high school and began to work on the family farm. In 1920, he applied to the part-time program at Kansas City School of Law. He was admitted, under the condition that he finish his high school education before earning his degree. In addition to his law school courses, Whittaker immediately began taking high school classes at Manual High School in Kansas City. He graduated in 1924, and was admitted to the Missouri bar during his senior year.
Whittaker joined the law firm of Watson, Ess, Marshall & Enggas in Kansas City, Missouri. There, he built up a practice in corporate law and grew his reputation as a litigator. On June 5, 1956, after briefly serving as a federal judge on the U.S. District Court for the Western District of Missouri, Whittaker was nominated to the Eighth Circuit Court of Appeals.
Appointment to the Supreme Court
While serving on the court of appeals, Whittaker had developed a reputation as a respectable judge. On March 25, 1957, President Dwight D. Eisenhower appointed Whittaker to the Supreme Court of the United States. On the closely divided Supreme Court, Whittaker often served as a swing vote. During his time on the bench, however, Whittaker struggled to maintain a consistent judicial philosophy. As a result, he sided with the majority on almost every ruling.
After agonizing deeply over his vote in Baker v. Carr, a landmark reapportionment case, for months, Whittaker suffered a nervous breakdown in the spring of 1962. Citing exhaustion from the heavy workload and stress, Whittaker retired from the Court shortly thereafter.
Death
Whittaker died on November 26, 1973 in Kansas City, Missouri of a ruptured abdominal aneurysm.