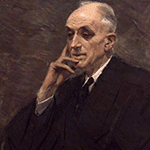 John Marshall Harlan II (1955-1971)
Lived from 1899 to 1971.
Early Life and Legal Career
John Marshall Harlan II was born on May 20, 1899 in Chicago, Illinois. His grandfather, also John Marshall Harlan, was an associate justice of the U.S. Supreme Court from 1877 to 1911. In 1916, Harlan enrolled in Princeton University, where he was a member of the Ivy Club, served as editor of The Daily Princetonian and was class president during his junior and senior years. He graduated from the university in 1920, at which time he received a Rhodes Scholarship, which he used to attend Balliol College in Oxford.
After returning home from Oxford, Harlan enrolled in New York Law School. He received his LL.B. in 1924, and was admitted to the bar in 1925.  Between 1925 and 1927, Harlan served as Assistant U.S. Attorney for the Southern District of New York. In 1928, Harlan was then appointed New York's Special Assistant Attorney General, where he served for two years before returning to private practice until 1943. Shortly thereafter, World War II struck. Harlan volunteered for military duty, serving as a colonel in the United States Army Air Force from 1943 to 1945. After the war, Harlan returned to private practice. On January 13, 1954, President Dwight D. Eisenhower nominated Harlan to the U.S. Court of Appeals for the Second Circuit. His stay on the court only lasted for one year.
Appointment to the Supreme Court
On January 13, 1954, one year following his nomination to the Court of Appeals, Harlan was nominated to the Supreme Court of the United States by President Eisenhower. During his time on the bench, Harlan believed in a limited federal judiciary. He favored the political process as the best realm for addressing and remedying public issues. Harlan, however, voted regularly to expand civil rights. In Cooper v. Aaron, he voted with the majority to compel public officials to desegregate Arkansas public schools. Harlan also joined the unanimous decision to end the ban on interracial marriages in Loving v. Virginia.
Harlan's health began to deteriorate in the late 1960s, starting with his eyesight. He was forced to retire from the Court on September 23, 2971.
Death
Harlan died of spinal cancer on December 29, 1971 at the age of 72. He was entombed in Washington, D.C.