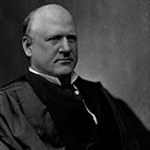 John Marshall Harlan (1877-1911)
Lived from 1833 to 1911.
Early Life and Legal Career
John Marshall Harlan was born on June 1, 1833 to a prominent slaveholding family in Boyle County, Kentucky. Harlan attended Centre College in Danville, followed by two years studying law at Transylvania University. He was admitted to the bar in 1853, and joined his father's law practice shortly after.
Originally a member of the Whig party, Harlan was active in politics from a young age. He sought to prevent Kentucky from succeeding in the years before the Civil War. Once the war began, Harlan fought for the Union in the 10th Kentucky Infantry until his father's death in 1863. At that time, he resigned and returned to Frankfort to support his family.
In 1863, Harlan was elected Attorney General of Kentucky, a position that he remained in for four years. Harlan subsequently opened a law firm in Louisville, however he spent most of his time campaigning for the Republican party in his state. Although Harlan supported slavery and opposed the Emancipation Proclamation during the Civil War, after the election of President Ulysses S. Grant he renounced these views, becoming an ardent supporter of civil rights.
Appointment to the Supreme Court
In 1877, Harlan was nominated by President Rutherford Hayes to serve as an Associate Justice on the Supreme Court. He was a rigorous advocate for civil rights throughout his tenure on the Court. In Hurtado v. California (1884), Hunt became the first justice to argue that the Fourteenth Amendment incorporated the Bill of Rights. He was also the only justice to dissent in the infamous Plessy v. Ferguson (1896) decision, arguing that the Constitution should be "color-blind". Harlan was a staunch anti-imperialist, arguing in the Insular Cases (1901-1905) that the Constitution did not discriminate between the rights between citizens of the states and the residents of newly acquired territories.
In 1906, Harlan donated a King James Bible to the Supreme Court, which became known as the "Harlan Bible." As of 2015, the Bible has been signed by every succeeding Supreme Court Justice after taking the oath of office.
Death
Harlan died on October 14, 1911, after serving 33 years on the Supreme Court–the 6th longest tenure in the Court's history. He is buried in Rock Creek Cemetery in Washington, D.C.
Notable Cases
Civil Rights Cases (1883)
Hurtado v. California (1884)
Plessy v. Ferguson (1896)