SCOTUS Ends December Sitting With Potential First Amendment Blockbuster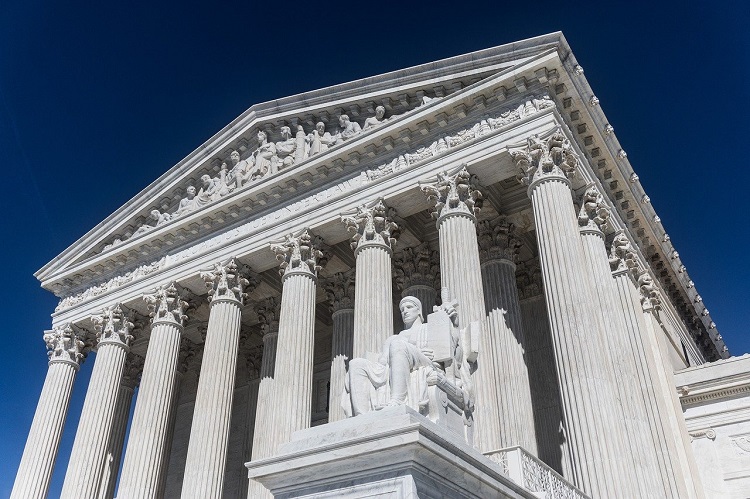 The U.S. Supreme Court ended its December sitting with oral arguments in Carson v. Makin. The closely-watched First Amendment case involves whether Maine's exclusion of religious school options from its tuition-assistance program violates the U.S. Constitution.
In Espinoza v. Montana Department of Revenue, 140 S. Ct. 2246 (2020), the Supreme Court held that a state may not exclude families and schools from participating in a student-aid program because of a school's religious status. However, the justices did not decide whether a state may nevertheless exclude families and schools based on the religious use to which a student's aid might be put at a school.
The issue is now before the Court in Carson v. Makin, which challenges a sectarian exclusion in Maine's tuition assistance program. It provides that "[a] private school may be approved for the receipt of public funds for tuition purposes only if it. . . . [i]s a nonsectarian school in accordance with the First Amendment of the United States Constitution."
The First Circuit Court of Appeals upheld the religious exclusion, reasoning that it does not bar students from choosing to attend schools with a religious status, but rather bars them from using their aid to attend schools that provide religious, or "sectarian," instruction. In granting certiorari, the Supreme Court agreed to consider the following question: "Does a state violate the Religion Clauses or Equal Protection Clause of the United States Constitution by prohibiting students participating in an otherwise generally available student-aid program from choosing to use their aid to attend schools that provide religious, or 'sectarian,' instruction?"
During oral arguments, the Court's conservative members appeared to agree that Maine's exclusion of schools that teach religion constitutes unconstitutional discrimination. In support, Justice Brett Kavanaugh emphasized that in school districts lacking a public school, one family could send their children to a secular private and receive the tuition assistance, while another who sends their child to a religious private school could not. "That's just discrimination on the basis of religion right there at the neighborhood level," he argued.
In response, Justice Sonia Sotomayor noted that parents who live in school districts that don't have their own public schools "are put to the same choice that every other parent in Maine is put to: Either get a free public secular education or pay for your religious training. They're being treated as everybody else is."
The Supreme Court also consider four additional cases last week. Below is a brief summary of the issues before the Court:
Hughes v. Northwestern University: The case involves a provision of the Employee Retirement Income Security Act of 1974 (ERISA) requiring a plan fiduciary to meet a standard of "prudence" in administering the plan holding the participant's retirement assets in a defined contribution plan. The circuit courts of appeal are split on whether a plan participant can adequately plead a breach of fiduciary duty by claiming that the retirement plan charged excessive fees when lower-cost alternatives existed. Accordingly, the justices have agreed to decide the following question: "[w]hether allegations that a defined-contribution retirement plan paid or charged its participants fees that substantially exceeded fees for alternative available investment products or services are sufficient to state a claim against plan fiduciaries for breach of the duty of prudence under the Employee Retirement Income Security Act of 1974, 29 U.S.C. § 1104(a)(1)(B)."
Patel v. Garland: Pankajkumar S. Patel checked a box on a Georgia driver's license application erroneously identifying himself as a U.S. citizen, even though Mr. Patel was eligible for a license regardless of his citizenship. When Mr. Patel later sought to adjust his status to lawful permanent resident, a divided panel of the Board of Immigration Appeals (BIA) denied him relief, holding that he is inadmissible because he "falsely represented" himself as a U.S. citizen for a benefit under state law. The Eleventh Circuit held that it lacked jurisdiction to review threshold eligibility findings for five major categories of discretionary relief from removal, such as whether Mr. Patel is inadmissible for mistakenly representing himself as a U.S. citizen. The Court will decide "[w]hether 8 U.S.C. 1252(a)(2)(B)(i) preserves the jurisdiction of federal courts to review a nondiscretionary determination that a noncitizen is ineligible for certain types of discretionary relief."
U.S. v. Taylor: The case involves what constitutes a crime of violence under 18 U.S.C. § 924(c), which makes it a federal crime to use a gun in connection with any "crime of violence" that can be prosecuted in federal court. The specific question before the Court is: "Whether 18 U.S.C. § 924(c)(3)(A)'s definition of "crime of violence" excludes attempted Hobbs Act robbery, in violation of 18 U.S.C. § 1951(a)."
Shinn v. Ramirez: The justice will answer the following: "Whether application of the equitable rule the Supreme Court announced in Martinez v. Ryan renders the Antiterrorism and Effective Death Penalty Act, which precludes a federal court from considering evidence outside the state-court record when reviewing the merits of a claim for habeas relief if a prisoner or his attorney has failed to diligently develop the claim's factual basis in state court, inapplicable to a federal court's merits review of a claim for habeas relief."
Decisions in all of the cases are expected before the Supreme Court term ends in June 2022.
The Amendments
Establishment ClauseFree Exercise Clause
Freedom of Speech
Freedoms of Press
Freedom of Assembly, and Petitition

Unreasonable Searches and Seizures

Due Process
Eminent Domain
Rights of Criminal Defendants
Preamble to the Bill of Rights
Congress of the United States begun and held at the City of New-York, on Wednesday the fourth of March, one thousand seven hundred and eighty nine.
THE Conventions of a number of the States, having at the time of their adopting the Constitution, expressed a desire, in order to prevent misconstruction or abuse of its powers, that further declaratory and restrictive clauses should be added: And as extending the ground of public confidence in the Government, will best ensure the beneficent ends of its institution.