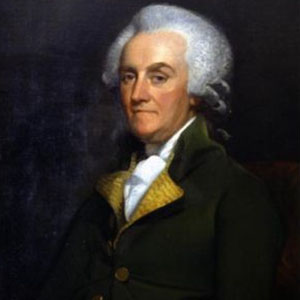 William Franklin was the illegitimate son of Benjamin Franklin. Unlike his father, William was a loyalist, serving as the last royal governor of New Jersey. During the American Revolution, he spied for the British, was arrested, and eventually fled to England.
Early Life
William Franklin was born around 1731 in Philadelphia, Pennsylvania. While he was acknowledged to be illegitimate, Benjamin Franklin and his common-law wife Deborah Read raised him as their son. In 1746, William joined the British provincial army to fight in King George's War, achieving the rank of captain. Following the war, William completed his legal education in England and was subsequently admitted to the bar. He worked with his father to pursue various business interests, including land grants in the west.
Governor of New Jersey
In 1763, William Franklin was appointed as the Royal Governor of New Jersey. While his father helped him secure the position, William was capable and popular. According to historian Willard Sterne Randall:
Franklin proved an able governor; avoiding quarrels with the assembly, he put forth effort to bring about popular reforms, such as the improvement of roads and construction of bridges. He also worked to secure crop subsidies from England and founded the colony's chancery courts. He encouraged the assembly to grant a charter to Rutgers, the state university, and curtailed imprisonment for debt. He pardoned 105 women sentenced to jail for adultery during his fourteen-year term. The Delaware Indians nicknamed him "Dispenser of Justice" after he hanged two Sussex County men for beheading a prisoner during the Pontiac Rebellion. He also established the first Indian reservation in America at Brotherton in Burlington County.
American Revolution
Despite his father's attempts to sway his allegiance, William remained loyal to Britain for the duration of the American Revolution. In the early days of the war, he continued to serve as governor of New Jersey.
In January 1776, members of the colonial military intercepted communications from Franklin to British intelligence. Franklin was arrested and later released. He was arrested again following the signing of the Declaration of Independence and imprisoned in Connecticut. Two years later, he was released to British authorities in exchange for John McKinley, the former president of Delaware. William moved to New York City, which was still under British control. There, he continued to participate in Loyalist intelligence operations and support attacks on patriot soldiers.
When it became clear the Americans would win the war, William fled to England. In 1783, he became a founding member of the Royal Society of Edinburgh. Although they attempted to reconcile, Benjamin and William's relationship failed to recover from their divergent allegiances in the Revolutionary War. William died in London in 1813.