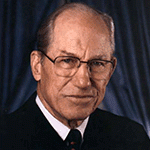 Byron White (1962-1993)
Lived from 1917 to 2002.
Early Life
Byron Raymond "Whizzer" White was born on June 8, 1917, in Fort Collins, Colorado. After graduating at the top of his high school class of six, White went on to attend the University of Colorado on a scholarship. In 1938, White was selected fourth overall in the NFL Draft by the Pittsburgh Pirates (now Steelers). Just days after the draft, White became a Rhodes Scholar at Oxford University. He delayed his enrollment at Oxford for one year, however, to play football for the Pirates. While short, White's NFL career was impressive; he led the league in rushing as a 21-year old rookie and became the league's highest paid player.
After leaving for England in 1939 to attend Oxford University, White returned to the United States that same summer due to the outbreak of World War II. Upon returning home, White immediately enrolled in Yale Law School. In 1942, prior to entering his third year, White joined the U.S. Navy to serve as an intelligence officer during World War II. During his service, White was awarded two Bronze Star medals. He was discharged in 1954 as a lieutenant commander, at which time he returned to Yale Law School to complete his final year.
Legal Career
After graduating at the top of his class, White served as a law clerk to Supreme Court Chief Justice Fred Vinson. White later returned to Denver, where he spent the next fifteen years practicing law at a law firm now known as Davis Graham & Stubbs. After his election, President John F. Kennedy named White the United States Deputy Attorney General. Later in 1962, President Kennedy appointed White to the Supreme Court to fill the vacant seat left by the resignation of Justice Charles E. Whittaker.
Appointment to the Supreme Court
Appointed at the age of 44, White became the youngest man to serve on the court at the time. A hardline conservative, White struggled in his early years to identify with the more liberal court of Chief Justice Warren. White dissented in several leading decisions made by the court, often in opposition to what he believed to be judicial activism.
In Miranda v. Arizona, White objected to the ruling that changed the way the police could interrogate suspects. In 1973, White also dissented in Roe v. Wade, an abortion rights case. Later, as the Court became more conservative leaning, White's judicial philosophy became more in line with his colleagues. White retired from the Supreme Court in 1993. After retirement, White occasionally sat with lower federal courts and maintained chambers in the federal courthouse of Denver until shortly before his death.
Death
White died of pneumonia on April 15, 2002 at the age of 84.