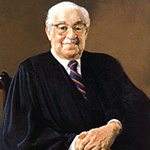 Thurgood Marshall (1967-1991) 
Thurgood Marshall lived from 1908 to 1993. Marshall was a renowned lawyer and civil rights activist, known for his high success rate in arguing before the Supreme Court and for his victory in the infamous case Brown v. Board of Education.
Early Life

Marshall was born in Baltimore, Maryland, on July 2, 1908. His father, William, who worked as a railroad porter, and his mother, Norma, who worked as a school teacher, instilled in him an appreciation for the U.S. Constitution and the rule of law. He attended Frederick Douglass High School in Baltimore, where he graduated a year early. After high school, Marshall attended Lincoln University and graduated with honors (cum laude) with a Bachelor of Arts in Humanities. Due to segregation policies at the time, Marshall was unable to apply to his first choice for law school, the University of Maryland School of Law.  Instead, Marshall enrolled in Howard University, where he graduated at the top of his class in 1933.
Legal Career
After graduating from law school, Marshall began his own private law practice in Baltimore.  In 1934, Marshall represented the National Association for the Advancement of Colored People (NAACP) in the law school discrimination suit Murray v. Pearson—marking the beginning of his 25-year affiliation with the group.
One of the most notable successes of Marshall's legal career, however, was his victory in Brown v. Board of Education, the 1954 Supreme Court decision that declared segregation in public schools unconstitutional. Including Brown, Marshall was victorious in 29 out of the 32 cases he argued before the Supreme Court.
Eventually, Marshall was appointed by President John F. Kennedy to the United States Court of Appeals for the Second Circuit. Throughout his four years spent as a federal judge, not one of Marshall's opinions were reversed on appeal to the Supreme Court. In 1965, President Lyndon B. Johnson appointed Marshall as United States Solicitor General, a position he held for two years. As solicitor general, Marshall won fourteen out of the nineteen cases that he argued.
Appointment to the Supreme Court
President Johnson nominated Marshall to the U.S. Supreme Court in 1967. He was approved by a Senate vote of 69-11, becoming the first African American named to the Supreme Court. During his time on the Court, Marshall was notorious for ruling in favor of individual rights—especially those of criminal suspects against the government. Marshall and fellow Justice William Brennan dissented from every denial of certiorari relating to a capital case, in addition to every decision upholding the death penalty. Marshall retired from the Supreme Court in 1991 due to health issues.
Death
Marshall died of heart failure on January 24, 1993 at age 84. He is buried in Arlington National Cemetery.