SCOTUS Sidestepped Challenge to Pledge of Allegiance in Elk Grove Unified School District v Newdow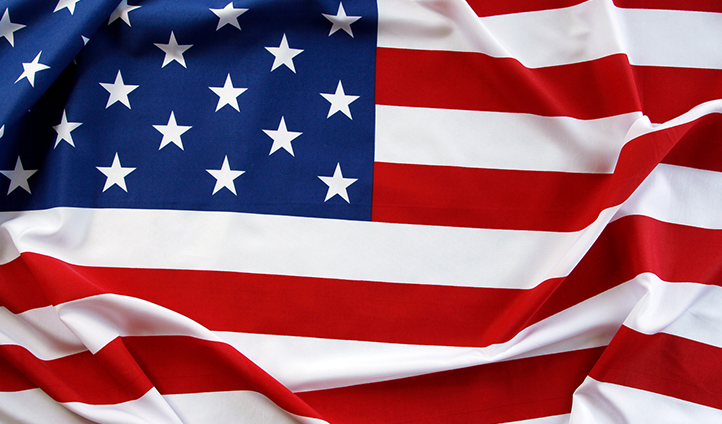 In Elk Grove Unified School District v Newdow, 542 U.S. ____ (2004), the U.S. Supreme Court sidestepped a constitutional challenge to the Pledge of Allegiance. By holding that the plaintiff lacked standing, the Court avoided deciding whether the words "under God" run afoul of the First Amendment's Establishment Clause.
Facts of Elk Grove Unified School District v Newdow
Elk Grove Unified School District required elementary school classes to recite the Pledge of Allegiance each day. Michael Newdow's daughter participated in this exercise as a student attending school in the district. Newdow, an atheist, filed suit alleging that, because the Pledge contains the words "under God," it constitutes religious indoctrination of his child in violation of the Establishment and Free Exercise Clauses. He also alleged that he had standing to sue on his own behalf and on behalf of his daughter as "next friend."
The Magistrate Judge concluded that the Pledge is constitutional. The District Court agreed and dismissed the complaint. The Ninth Circuit reversed, holding that Newdow had standing as a parent to challenge a practice that interferes with his right to direct his daughter's religious education. It further concluded that the school district's policy violates the Establishment Clause. Sandra Banning, the child's mother, then filed a motion to intervene or dismiss, declaring that she had exclusive legal custody under a state-court order and that, as her daughter's sole legal custodian, she felt it was not in the child's interest to be a party to Newdow's suit. Concluding that Banning's sole legal custody did not deprive Newdow, as a noncustodial parent, of Article III standing to object to unconstitutional government action affecting his child, the Ninth Circuit held that, under California law, Newdow retained the right to expose his child to his particular religious views even if they contradict her mother's, as well as the right to seek redress for an alleged injury to his own parental interests.
Supreme Court's Decision in Elk Grove Unified School District v Newdow
By a vote of 8-0 (Justice Antonin Scalia recused), the Supreme Court reversed. Five members of the Court agreed that because California law deprived Newdow of the right to sue as next friend, he lacked prudential standing to challenge the school district's policy in federal court. The three remaining members agreed that the Ninth Circuit's decision should be reversed, but dissented on the issue of standing.
According to the majority, California law did not support Newdow's contention that he had a right to dictate to others what they may and may not say to his child respecting religion, noting that he sought to "forestall his daughter's exposure to religious ideas that her mother, who wields a form of veto power, endorses, and to use his parental status to challenge the influences to which his daughter may be exposed in school when he and Banning disagree."
 As Justice John Paul Stevens further explained:
In our view, it is improper for the federal courts to entertain a claim by a plaintiff whose standing to sue is founded on family law rights that are in dispute when prosecution of the lawsuit may have an adverse effect on the person who is the source of the plaintiff's claimed standing. When hard questions of domestic relations are sure to affect the outcome, the prudent course is for the federal court to stay its hand rather than reach out to resolve a weighty question of federal constitutional law.
Chief Justice William Rehnquist and Justices Sandra Day O'Connor and Justice Clarence Thomas all wrote concurring opinions that concluded the Pledge of Allegiance does not violate the Establishment Clause. The justices all concluded that the reference to "God" in the Pledge of Allegiance qualifies as a minimal reference to religion and, therefore, did not turn the recitation of the pledge into a religious exercise or form an establishment of religion. As Justice O'Connor wrote:
The phrase "under God," conceived and added at a time when our national religious diversity was neither as robust nor as well recognized as it is now, represents a tolerable attempt to acknowledge religion and to invoke its solemnizing power without favoring any individual religious sect or belief system.
The Amendments
Establishment ClauseFree Exercise Clause
Freedom of Speech
Freedoms of Press
Freedom of Assembly, and Petitition

Unreasonable Searches and Seizures

Due Process
Eminent Domain
Rights of Criminal Defendants
Preamble to the Bill of Rights
Congress of the United States begun and held at the City of New-York, on Wednesday the fourth of March, one thousand seven hundred and eighty nine.
THE Conventions of a number of the States, having at the time of their adopting the Constitution, expressed a desire, in order to prevent misconstruction or abuse of its powers, that further declaratory and restrictive clauses should be added: And as extending the ground of public confidence in the Government, will best ensure the beneficent ends of its institution.