US Supreme Court Halts Curbside Voting in Alabama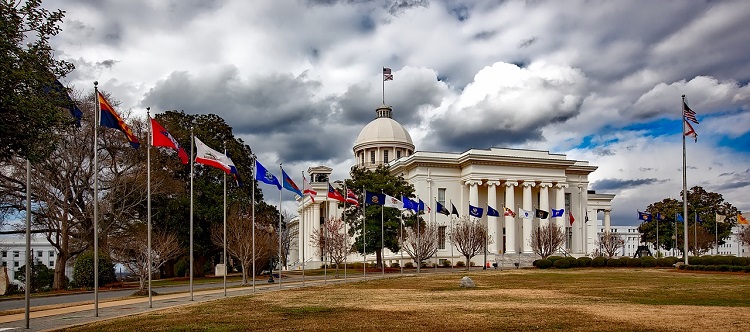 Many states have amended their election laws in response to COVID-19, which has resulted in litigation from both Republicans and Democrats. In Merrill v. People First of Alabama, 592 U. S. ____ (2020), the U.S. Supreme Court allowed Alabama's Secretary of State to reinstate its ban on curbside voting. By a vote of 5-3, the Court stayed a lower court order finding that the ban violated the Americans With Disabilities Act (ADA).
Facts of the Case
After Secretary of State John Merrill enacted a de facto ban on curbside voting in Alabama, several groups of plaintiffs filed suit, alleging that the curbside voting ban infringes on their voting rights under the U.S. Constitution, the Americans with Disabilities Act, and the Voting Rights Act. The District Court held that the Secretary's ban on curbside voting violated the ADA and that a policy allowing, but not requiring, counties to implement curbside voting was a reasonable accommodation. The District Court also held that the ban on curbside voting violates the plaintiffs' fundamental right to vote under the First and Fourteenth Amendments. The Eleventh Circuit upheld the District Court's injunction with regard to curbside voting.
Supreme Court Grants Stay
On October 21, 2020, the Supreme Court granted Alabama's application for stay, which effectively allows the curbside voting ban to resume for the upcoming November election.
Justice Sonia Sotomayor authored a dissent, which was joined by Justices Stephen Breyer and Elena Kagan. In support of the allowing the District Court's ruling to stand, Justice Sotomayor noted that the Centers for Disease Control and Prevention has recommended curbside voting as a means to curb the spread of COVID-19. She also emphasized that curbside voting is not a radical recommendation, as it is currently allowed in 28 other states.
Without such an accommodation, "vulnerable voters wish to vote in person, they must wait inside, for as long as it takes, in a crowd of fellow voters whom Alabama does not require to wear face coverings, Justice Sotomayor explained. "The secretary does not meaningfully dispute that the plaintiffs have disabilities, that COVID–19 is disproportionately likely to be fatal to these plaintiffs, and that traditional in-person voting will meaningfully increase their risk of exposure."
Justice Sotomayor rejected the Secretary's argument that the availability of absentee voting satisfies the ADA. "In-person voters receive assistance from poll workers; need no witnesses, notaries, or copies of their photo IDs, as Alabama law requires for absentee ballots; and know their ballot will not arrive too late or be rejected for failure to comply with absentee ballots' many requirements, "Justice Sotomayor wrote. "Absentee and in-person voting are different benefits, and voters with disabilities are entitled to equal access to both."
Citing that the Secretary had not demonstrated a specific legal error in the District Court's decision, Justice Kagan argued that the Court should not substitute the District Court's "reasonable, record-based findings of fact" with its own "intuitions about the risks of traditional in-person voting during this pandemic or the ability of willing local officials to implement adequate curbside voting procedures." She further wrote:
The District Court's modest injunction is a reasonable accommodation, given the short time before the election. It does not require all counties to adopt curbside voting; it simply gives prepared counties the option to do so. This remedy respects both the right of voters with disabilities to vote safely and the State's interest in orderly elections.
Sotomayor concluded her dissent by quoting one the ban's challengers, Howard Porter Jr, a black man in his 70s who suffers from Parkinson's disease and asthma. He stated: "[S]o many of my [ancestors] even died to vote. And while I don't mind dying to vote, I think we're past that – we're past that time."Justice Sotomayor added: "Election officials in at least Montgomery and Jefferson Counties agree. They are ready and willing to help vulnerable voters like Mr. Porter cast their ballots without unnecessarily risking infection from a deadly virus. This Court should not stand in their way."
The Amendments
Establishment ClauseFree Exercise Clause
Freedom of Speech
Freedoms of Press
Freedom of Assembly, and Petitition

Unreasonable Searches and Seizures

Due Process
Eminent Domain
Rights of Criminal Defendants
Preamble to the Bill of Rights
Congress of the United States begun and held at the City of New-York, on Wednesday the fourth of March, one thousand seven hundred and eighty nine.
THE Conventions of a number of the States, having at the time of their adopting the Constitution, expressed a desire, in order to prevent misconstruction or abuse of its powers, that further declaratory and restrictive clauses should be added: And as extending the ground of public confidence in the Government, will best ensure the beneficent ends of its institution.